Selling and buying Spanish property privately…
Creative Property Marketing offer a unique way to sell & buy Spanish properties privately yet with support and no need to pay commission or have it wrapped up in the asking price. What we do works and we don't believe you will find a company offering the same amazing service or concept anywhere (see more below the Coronovirus update)…
The Spanish property market is speeding along again… we need new properties for waiting buyers despite Coronavirus!
♦  We are fully open and working hard to support sellers to sell privately without commission and connecting motivated buyers with our sellers as you read this!
♦ Enquiry levels we are receiving have bounced back very quickly, increasing to pre-virus levels showing the interest in Spanish property.
♦ There is an advantage to 'buying direct from owner' – there is no requirement to travel with an estate agent in their car!
♦  There is nothing stopping anyone from selling their Spanish property privately now. Getting ahead of the crowd to get your Spanish home on the market before others, is a great idea because the rush to buy has already started!
♦  The British are back – looking to buy urgently in higher numbers than seen for a long time – they want to buy before the 31st December Brexit deadline – getting their Spanish residency organised urgenty – so please don't delay, get your home on the market with us today!
♦ If you are wishing to sell your Spanish home, please contact us via email or phone – we are ready to create the best advert for your property – displaying your property 24 hours a day, 7 days a week to potential buyers across the world. Read more about this below…
♦ If you are a buyer, please have a look through our 'property search' section to see if we have your dream Spanish home.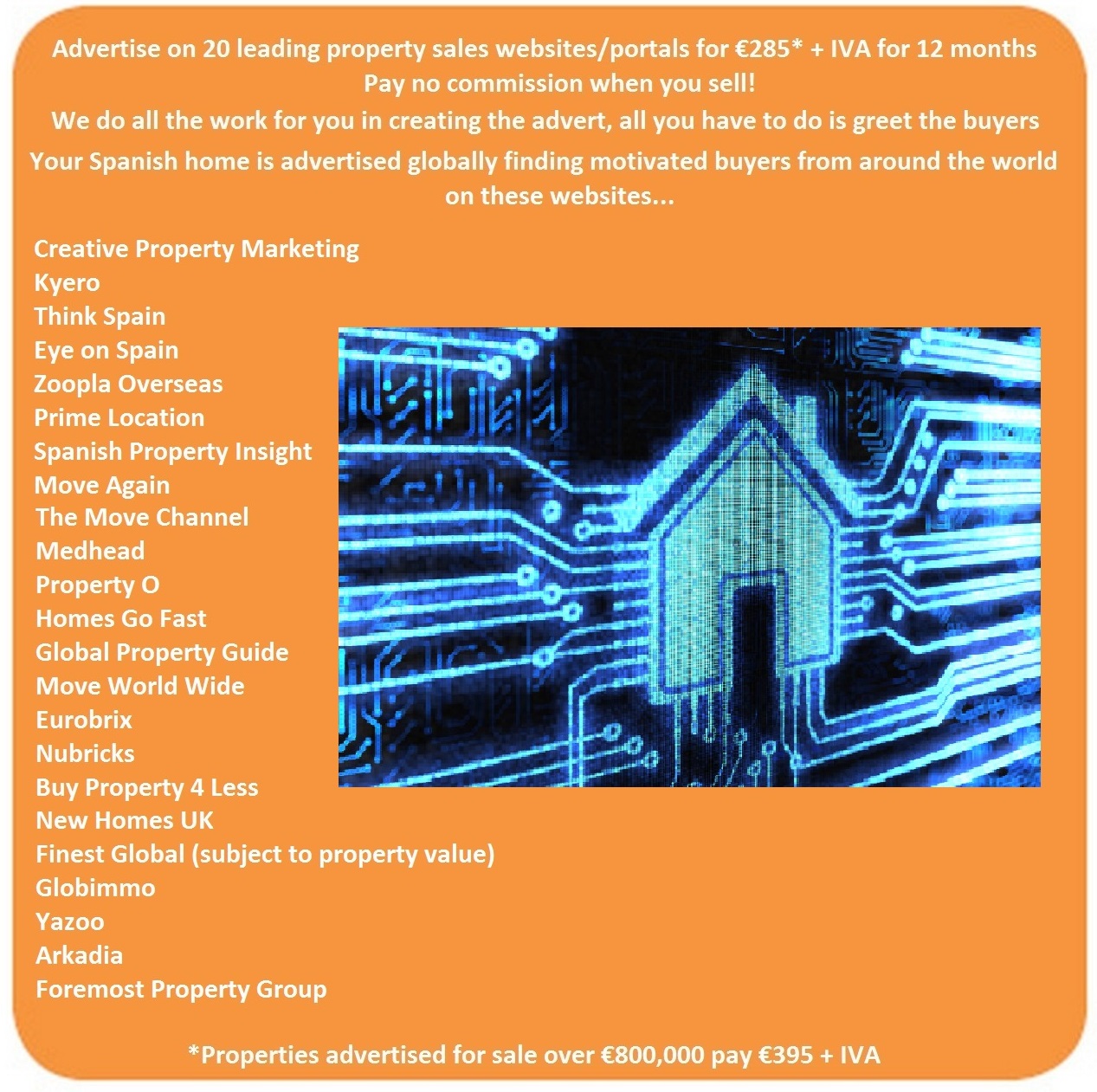 Sellers:
We are not estate agents, we are a Spanish registered advertising company (C.I.F. B93160919). We help sellers of Spanish property to sell privately with our full support and guidance.
Our unique advertising package is a first class 12 month campaign, featuring…
We advertise properties on the best property sales websites that attract buyers from around the globe to Spanish property.
For just €285 + IVA = €344.85 so, what we do is very cost effective. Properties advertised over €800,000 pay €395 + IVA = €477.94
The personal touch + extensive experience + superb advertising = success! There is no need to pay 5% commission + 21% IVA to sell a Spanish home when you can do so for less than €350 with full professional support.
NO commission when a sale completes means sellers have more flexibility to negotiate on price or they can advertise at a more competitive price to attract more buyers!
Payment options are simple… Bank transfer into our business account, a secure online payment with a debit or credit card (in Euros or Sterling) or payment via PayPal if you have an account.
Creative Property Marketing offer sellers the opportunity to advertise privately on Kyero… some websites will allow private sellers to advertise directly however, many do not. We can place your property on websites such as Kyero, Zoopla and Prime Location that do not allow private seller advertising.
From the feedback and testimonials we receive, the opportunity we offer private sellers of Spanish property cannot be found elsewhere.
Sellers can trust us… We are highly skilled property professionals who 'have our fingers on the pulse' of the Spanish property market and we pass on our knowledge to both sellers and buyers.
We produce unique property descriptions with carefully created wording and lots of information presented professionally and displayed to millions of buyers around the globe 24 hours per day, 365 days per year. Buyers on the other side of the globe can be reading our property descriptions whilst our sellers are asleep.
Sales are the key and we have lots of them… we know sales are hard to come by in Spain but the market is improving and the chance for you to sell privately are better than ever! We have many buyers who only want to buy "direct from the owner" properties. We support sellers and buyers as much or as little as they wish. We are always available to help and give quality advice.
We know of no other company that will give such a high level of personal service to private sellers, to include:
♦ Superbly written, first class property descriptions that are unrivalled in the Spanish property sales industry today.
♦ In the first instance, the enquiries from interested buyers are handled on behalf of the seller (to screen for quality) and then handed over to the sellers for further communication and to organise viewings.
♦ Free of charge, on-line price comparison valuations are available (via email) for our sellers at any time during their 12 month advertising campaign.
♦ Cross selling never happens… An enquiry from buyers about a specific property is never cross sold onto another home for sale (an estate agent's trick of the trade)!
♦ All our clients are treated as individuals, as well as their properties. No two sellers will ask for the same type of support and rarely are two Spanish properties the same.
♦ If a seller prefers to send us photos by email, WhatsApp, pen drive or computer disc – we adapt to our seller's preferences to ensure they are comfortable.
♦ Creative Property Marketing is not a faceless internet business – we are available to be spoken to on the phone at any time before or during a 12 month advertising campaign. You can see our faces if you visit our 'About Us' page plus learn about our work history and experience in international property sales.
♦ If a seller wants to amend their property description during the 12 months with a new main image or revised their price etc. that service is available free of charge.
♦ Every month our sellers receive by email an Overview of the month's performance – sales, level of enquiries, which portals are performing the best and lots of useful information about the property market here in Spain.
We know that paying up front for a service such as ours is a risk but the benefits are enormous – high quality, professional service, advice along the way and the chance to save thousands of Euros normally paid to an agent… We don't just advertise your property and forget you – we communicate with you, provide feedback and our sellers are encouraged to work as a team with us.
Selling privately via the internet is becoming the norm in these modern times but rarely at such a cost-effective price. Especially considering the 20 quality property portals included in the advertising campaign.
Potential buyers of Spanish property will start looking for their dream Spanish home on-line – it's a fact. We make sure those buyers have the opportunity to see your property is for sale, be they; English, European (German, French, Dutch, Belgium, Scandinavian etc.) or Golden Visa buyers from across the world. We regularly receive more than 100 enquiries each and every month from buyers outside of the UK. Of late, we have averaged more than 250 enquiries for our properties each and every month – one of them could be your buyer…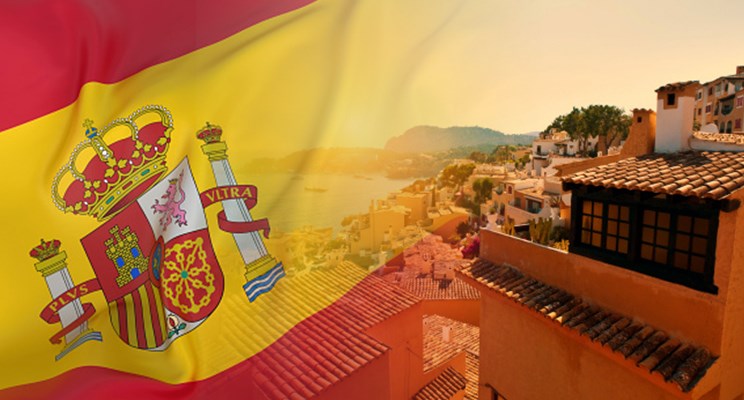 To sell a home within days, weeks or months and pay just €285 + IVA = €344.85 is a reality! Most of our new clients are from recommendations – just give us a call or drop us an email, you will likely be very pleasantly surprised or even shocked at how well you are treated. Many clients say we are 'a breath of fresh air!'
Visit our 'step-by-step guide to sellers' for detailed information that will show you how easy it is to advertise your property for sale with us. You will find the link to this guide on the tab bar at the top of this home page (top left).
Buyers:
We believe you will find our property descriptions informative and above and beyond what you are used to reading. They include a Google Map location pin showing you the exact location of the property, a full description of the property and a taste of what it would be like to live in the geographical area of the home. We also try to include the average running costs of the property to give you some idea of the costs of ownership which will likely be a lot less than you think.
Our private sellers have no commission to pay so you will not have, for example a 5% commission + 21% tax wrapped up in the price. It is likely you can buy a property via Creative Property Marketing more cost effectively than via an estate agent!
Buyers organise to view the properties that interest them directly with the seller so, appointments can be arranged at the buyer's convenience and they can meet the seller at a convenient location that is easy to find and follow the seller to the home.
Our sellers and buyer communicate between themselves which cuts out 'the middle man' so, you can immediately ask the seller the questions most important to you or make an offer face-to-face.
If you want to ask for help and guidance from Creative Property Marketing, we are ready to communicate with you and help by email or phone.