Why choose Creative Property Marketing…
Sellers – we offer a comprehensive and fully supported opportunity to sell privately via the Internet and pay no commission when you sell. We provide a bespoke service to match the requirements of each client and we don't just load your property onto our website and disappear.
We offer monthly feedback on the market, we reply to all enquiries in the first instance explaining we are helping you to sell privately and we introduce you as the owners of the property they have enquired about.
We offer support and guidance throughout your 12 month advertising – how to maximise your chances of selling and how to get the best from enquiries that come to you.
You pay a one-off advertising charge of €285 plus IVA (total of €344.85) which covers the cost of us creating your advert and placing your advert on more than 20 websites attracting buyers from across the globe.  We also provide support and guidance on photography and the best way to maximise your chances of selling.
If your property is being placed on the market at a value in excess of €800,000 we charge €395 plus IVA (total of €477.95).
We know the level of support, guidance and commitment offered by many agents in Spain is poor so, it is wonderful to hear that  our 'personal touch' is said to be "a breath of fresh air".  Our attention to detail when creating your advert and property details is also really appreciated by both sellers and buyers.
We are also able to react to changes in the market and property laws as they happen and being based in Spain, we have contacts across the whole of Spain enabling us to guide you at all stages throughout the sales process.
We know that there are no another specialist advertising companies tailored in the same way to assist 'for sale by owner' sellers of property in Spain.  To us you are not a number – we want to help you sell and we will do all we can to assist.
We have a simple proposition – present your property in the best way possible and display your property on the best websites for attracting buyers to Spain.
Websites including Kyero, Spanish Property Insight, Think Spain, Prime Location, Zoopla Overseas,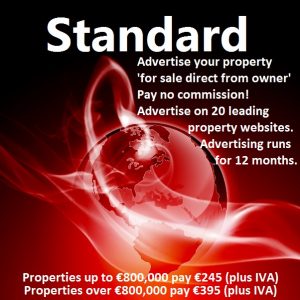 The Move Channel, Arkadia, Eye on Spain, Medhead, Global Property Guide, Move World Wide, Move Again and more…
Buyers from across the world visit these websites in their millions and some of the websites will translate your advert into a variety of languages.
These websites have proven track records for successfully, attracting buyers over many years and are the best way to increase the exposure of your property.  The standard package also offers an incredibly cost-effective way to reach buyers.  Many of these websites are not available to private sellers – you can only achieve access to the majority of these sites with our help.
Selling privately really is an option nowadays and becoming increasingly common place.  The property market in Spain is improving and by using the Internet to attract buyers, it is a quick, easy and very cost-effective way to sell your property in Spain.
Click on our 'step-by-step guide for sellers' to find out what we need from you and we'll do the rest!  We can create the advert for you, we do all the technical work loading the property description and photos – you just sit back and wait for the enquiries…  Step-by-step guide for sellers.
Buyers – when you search through our properties "for sale direct from the owners", you will not find thousands – just a select portfolio of homes from motivated private sellers across Spain.  We know the level of information we provide is hard to find elsewhere; for a start, all our properties are shown accurately located on Google Maps to enable you to make a more informed decision on whether a property is suitable for you or not.
Also, all our sellers are saving themselves a fee normally paid to an estate agent and some of our sellers will reduce their asking price to reflect this saving.  Others will be able to be more accommodating when it comes to offers – when agents are charging an average of 5%, you can benefit from some of this saving. Buying directly from the owners will give you the best chance of buying at a lower price!
Search our portfolio of "for sale by owner" properties across Spain (including the islands) here…Search properties
Our business – Creative Property Marketing is a Spanish registered S.L. (C.I.F. B93160919) and we understand the concerns about dealing with an Internet based company.  That is why we work in a completely transparent way to provide support, guidance and confidence to everyone we work with.
Having been involved in property sales in Spain for more than 12 years we have witnessed, at first hand, many alarming instances where poor service can lead to heartbreak and we feel both sellers and buyers deserve better.
Word of mouth spreads quickly within Spain and we are thrilled to say that our business grows year-on-year from recommendations.
We have been working in international property sales since 1986 so we have an understanding and level of experience which is hard to match.  You can read more about us by clicking on the tab at the top of this home page called; 'About Us.'
The property market in Spain is improving and we are delighted to report sales each and every month.  It makes our hearts "sing' when we realise how many thousands of Euros we have saved our sellers and in turn, helped buyers to turn dreams into a reality.